Some History of Reflexology or Zone Therapy
Modern School
Dr Fitzgerald accidentally discovered that pressure with a cotton tipped probe on the cutaneous margin of the nose gave an anesthetic result in 1915.
He then studied with Dr H Bressler from Vienna who was research treating certain conditions with pressure points.
A story: at a dinner he was asked what zone therapy could do for a professional singer whose voice had gone flat in the upper registers.
She had already consulted medical doctors - who could not help her. He examined her throat, and then asked to examine her hand and feet. Then he pronounced the cause was a callus on her right big toe!
Everyone laughed!
The doctor simply smiled and applied pressure to the callused area for a few minutes.
When she tried her voice shortly after the treatment she was able to sing on key and a full two notes higher than she had ever done before!
Most doctors did not take this work seriously - One who did was Dr Joseph Riley he wrote four books on Reflexology and made the first detailed drawings and diagrams of reflex points located on the feet.
One of his assistants, Eunice Ingram spent years refining an researching this therapy and wrote to books on foot reflexology - Stories the feet can tell and Stories the Feet have Told. As she saw results, was not bothered by the lack of science in this method and was not a doctor, her enthusiasm for this carried it forward. (circa 1930s)
Ancient history: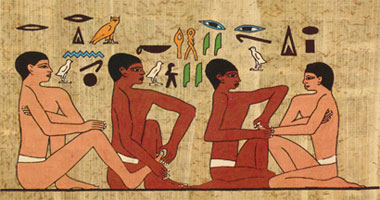 Early 6th Dynasty wall painting (about 2330 B.C.) in the tomb of Ankhmahor, known as the physician's tomb. The translation reads "don't hurt me.' The practitioner's reply: "I shall act so you praise me." If you look carefully, you can see one practitioner is working with a foot and the other is working with a hand. A wonderful bird's eye view into reflexology being practiced in ancient Egyptian times!
There is evidence that the Chinese practiced reflexology over 3000 (some say 8000) years ago here is the list of emotions then dealt with and organs associated with them:
Anger - Liver
Joy - caused external event or the memory of them Heart
Worry Pensiveness - thinking too much "analysis is paralysis" similar to Spleen
Sadness/Grief - Lungs
Fear - Kidneys
Shock - Adrenal
It would seem either there was less happening at that time and people had fewer emotional issues or some knowledge has been lost - what happened?
A new pastime swept the world - Scroll and Papyri Burning and Destroying Libraries!
527 BC The Persians burn Egyptian temples and papyri
490 BC The Persians destroy literary works of Athens
330 BC Alexander the Great, in Persepolis, destroys 12,000
volumes of the Magi
214 BC Chinese Emperor Chin Shi Huang-ti has all books in
China burned
146 BC The Romans destroy 500,000 Phoenician scrolls at
Carthage
52 BC Julius Caesar destroys library at Druid College
250 AD Library at Pergamum destroyed by zealous Christians
272 AD The main Library of Alexandria destroyed by Romans
391 AD Theophilus levels the "daughter library" at Alexandria1
What might we know of the past had this destruction not occurred?
What about Modern Emotions?
From David R Hawkins Book Power vs Force a list of energy level on a logarithmic scale from 1-1000 of emotional consciousness levels
20: Shame

30: Guilt

50: Apathy

75: Grief

100: Fear

125: Desire

150: Anger

175: Pride

200: Courage Note according to Hawkins the collective consciousness energy level of Mankind is 207 as of 2002 - a jump up from 190 where it had been for many centuries.

250: Neutrality

310 Willingness

350 Acceptance

400 Reason

500 Love - the Level of true happiness, the worlds fascination, all viable religions calibrate at this level or over. Only .4% of the ever reach this level of evolution. Love takes no position, and thus it is global, rising above separation.

540 Joy - This joy is the outgrowth of Love becoming more and more unconditional. No pleasurable turn of events is the cause, this joy radiates from each moment of existence. This is the level of healing and of spiritually based self help groups. People who have this level are capable of prolonged, open visual gaze, which induces a state of love and peace.
Resources:
Stories the Feet Can Tell Thru Reflexology/Stories the Feet Have Told Thru Reflexology; Eunice D. Ingham [Paperback] Publication Date: June 1, 1984 | ISBN-10: 0961180439 | ISBN-13: 978-0961180430 | Edition: 2nd
Power vs Force David R. Hawkins M.D. Ph.D
http://acupressure.b4gen.com/?p=438
The Yugas: Keys to Understanding Our Hidden Past, Emerging Present and Future Enlightenment