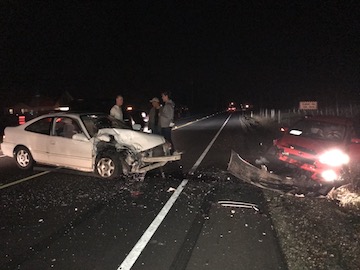 For me, Life moved at 100 MPH until it suddenly stopped on Oct 29th, 2017 - 9th months ago. A distracted driver, a head on collision and in an instant, the world changed.. An experienced practitioner in the healing arts, I turned to what I knew would be my best path back to health : self care and small steps, the same steps used to build business.
Please do your self care when you really need it at the end of the business day, you may really pay for it. I answered the phone last Thursday June 1st about 4:20 and the challenges of Tinnitus and Traumatic Brain Injury set - pseudo Bulbar affect and I was scammed for $3700. Do your Self Care!
Details of the Scam: Thursday June 1st 2018 about 4:30pm I got a call: You missed a court date A warrant for your arrest will be issued. You are a law abiding citizen and this is courtesy call before they come looking for you with handcuffs to be booked, finger printed and jailed.

So it seemed I missed a court appearance to be a juror Monday. It seemed there was a warrant for my arrest and I had to post bail bond of 10% of $37000. While maintaining cell phone contact with the sheriff at all times going to the bank without compromising my privacy which results another warrant and arrest.

Then you take the cash, go to Rite Aid and buy moneypak cards in $500 each value. Call a national phone number. Read them the scratch off number. They email the sherif while you wait in the parking lot. Then you maintain house arrest through cell phone and they call in the morning so maintain phone contact and say something to the deputy sheriff every 3-5 min. bit stress full. I cried. It was 6:30 pm and no one answered my text was available to help me. They told me the money would be available in the morning and a charges dropped. Be in the car at 9:15am Friday and wait for the deputy to call and maintain phone contact while I drive to the sheriff office to talk to them and get released.

They call at 7:00am Friday saying a new charge has come up. To keep from going into a PBA episode I get more money and send it to them at a different Rite Aid.

I can not process the event and disconnected feeling a bit numb though appearing functional. They claim the money will be available Monday June 4th. I have been scammed for $3700

They call again with another accusation I can not eat. and it get later and later and I get more and more confused. I can not seem to text anyone. They convince me to text them my drivers license. Possibly even my social security number.

I am driving in the car not able to find the sheriff station as I can not think. I stop in the car and cry. They call again and try to get me to Paypal them some money it does not work some how. They tell I must get the money by 9:00am or I will be arrested.

I finally call the Sheriff directly about 2:00 am and they say I have been scammed.

Had a total melt down crying and screaming the early morning after as I started recovering. The Video on PBA explains it more.
Of course, no public office or utility takes payment over the phone. I could not get there and no one I felt safe texting seemed to have time to help me. I felt so alone confused and scared of a full blown PBA event. Which did happen anyway.